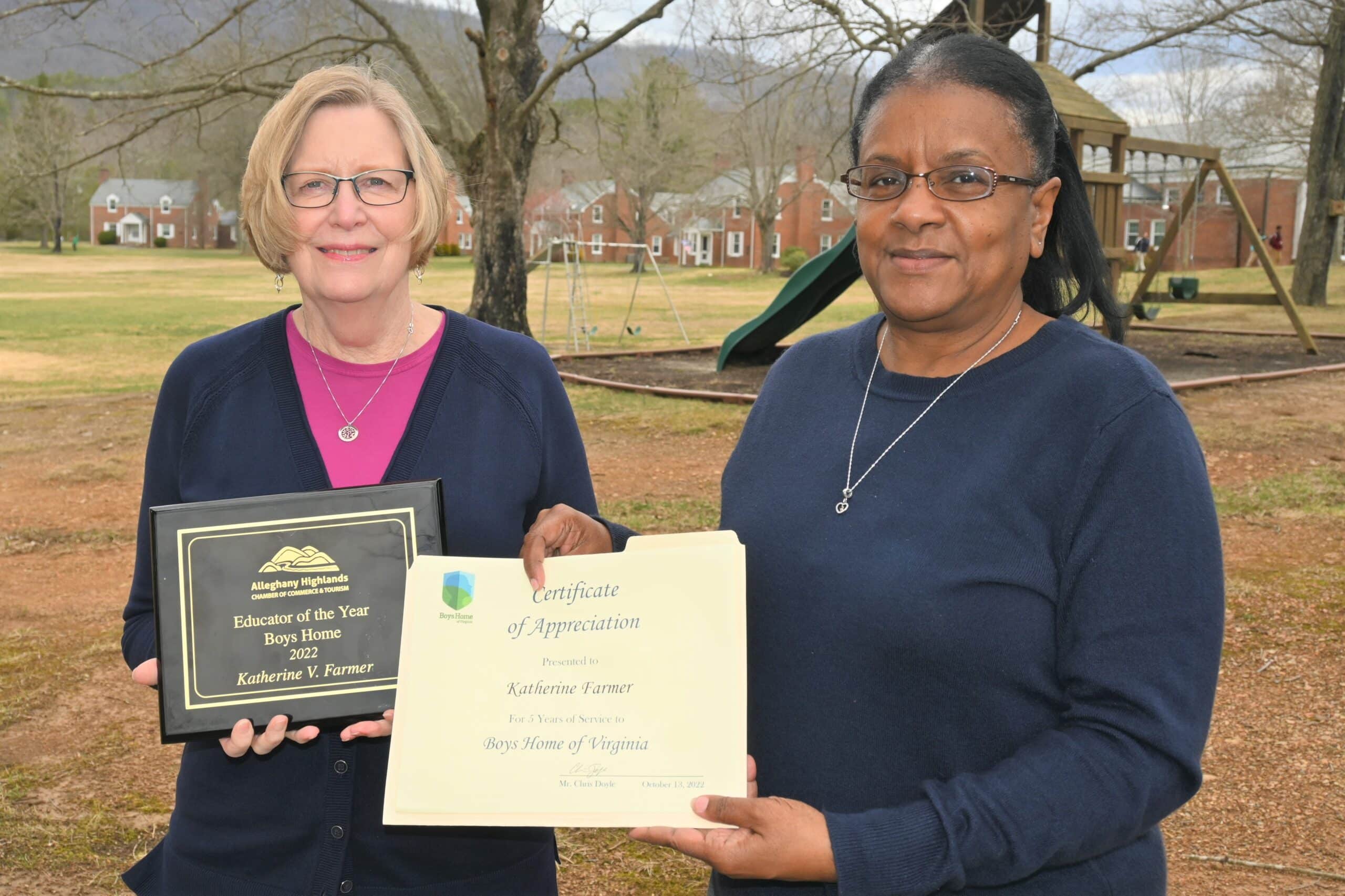 Katherine Farmer and Principal Teresa Johnson (left/right)
Boys Home staff and students are excited to announce Katherine Farmer's five-year work anniversary. In addition to her anniversary achievement, she was the 2023 Alleghany Highlands Chamber of Commerce recipient for "Educator of the Year." She serves as a full-time math teacher, currently teaching algebra, geometry and algebra, functions and data analysis (AFDA). Katherine holds a Bachelor of Science degree from Appalachian State University in secondary mathematics. Additionally, she holds a master's degree from Hollins University. Her connection to Boys Home was through the late Connie Back, the former assistant director of Boys Home School. Prior to her current position at Boys Home, Katherine taught at Alleghany High School for eleven years. Her love for teaching and math began at a young age. When she was eight, her father installed a chalkboard in the garage and that summer was filled with playing school with friends. She also had an eighth-grade math teacher who stood out for being kind and making math fun.
Now as a teacher, she often hears, "I hate math. It is hard!" Katherine states, "I want to make learning fun for my students. I often turn the lessons into games and have the students be the teacher for part of a class." Katherine was asked what she enjoys most in her current position. She states, "I thoroughly enjoy seeing a student succeed. That is my 'why.' I witness their progress as they transition into harder math courses and succeed. Some students come forward when they need extra help and ask for tutoring after school. Perhaps what is most rewarding is watching my students graduate. I am confident that they are all around a better student than when they first arrived at Boys Home." As an educator, Katherine helps to build a community that inspires young men to succeed in math by making it fun, encouraging peers to support each other and offering extra assistance to students when it is needed. Congratulations, Katherine, on both of your achievements!