Becoming a member of the Carpenter's Crew is a convenient and painless way to support the critically important work of Boys Home of Virginia.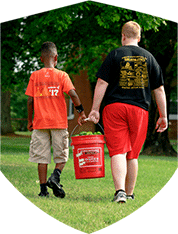 Your monthly gift, given automatically through a credit or debit card (or other automatic payment method), will mean you are providing food, clothing, shelter and education to the boys, twelve months a year!
How does becoming a member of the Carpenter's Crew program work?
It's simple! You select a gift amount (minimum of $20) and provide us with credit or debit card information (or other information required to set up an automatic monthly payment) so that an automatic transfer of your chosen amount can be made to Boys Home each month. For less than the cost of a pizza dinner for two, you will be taking a significant step, every month, to provide for boys and young men who need a little extra help along their journeys in life.
Remember, at Boys Home it all happens 
because of you!
What happens after I join the Carpenter's Crew?
You will receive a thank you letter in the mail along with a free membership gift. NOTE: Only Carpenter's Crew members are entitled to these Carpenter's Crew specific items. Additional quantities of these items will be available for purchase by members after joining.  
Every January, you will receive an annual tax statement for income tax filing purposes.
Periodically, you will receive special exclusive information from Boys Home generated specifically for Carpenter's Crew members.
Most importantly, you will be a stalwart on the front lines in the battle facing our young men every day, making it possible for Boys Home to concentrate more on mission issues (building young men) and less on budget issues.
You can change your monthly donation amount, or even cancel your Carpenter's Crew membership at any time. Simply call (540) 965-7715 and give us your instructions.
An opportunity that works for everyone and is easy on the budget.
Here is what donors have to say:
"I like to support the organizations I care about, but I can't afford to write big checks. That's why I want to join this new club that lets me give once a month through a bank transfer. It's safe, convenient, trouble-free and I can easily budget for it. At the end of the year, I will have given more than I otherwise would have and I really like that because of everything that Boys Home has meant to my family. Thank you for standing up for these boys!"
George W., Richmond, VA
"I had never thought of giving automatically once a month, but I surely do prefer it. You sign up and everything is taken care of. I don't have to do a thing, and I know I am helping so many boys out there. Every time I think about it I feel good. Also, I want to tell you that you can count on two nice gifts in our wills."
Susan K., Roanoke, VA